COFFEE & BAR FLORENCE TOUR
Italian bar, cappuccino and espresso are part of the Italian tradition, history and lifestyle. Discover the world and the legend of the Italian bars and the science and the myth of its most famous ingredient!
WHAT WE WILL DO DURING THE TOUR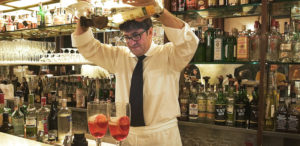 This unique tour will let you discover secrets, history, legend and curiosity of the Italian bar and coffee shops.
With a pleasent walk in the center of Florence we will discover the oldest bars in Italy, and we'll see how some of them have started the waves of the Italian art and politics. Also we will discover the curious history of the coffee maker with a mustache, the most famous of Italy: the Moka pot.
We will learn also the codes of interaction between the barista and the italian clients, the many tricks of the barista and the frantic ritual of the Italian breakfast.
Then it will be the time to learn about the supreme protagonist: the coffee!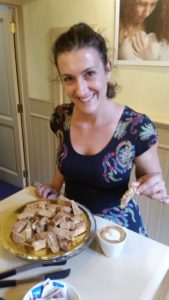 In a true Italian café we will follow the path of the golden beans. We will roast our own coffee (that we will take home) and, with an Italian trainer barista, we will learn the secrets of making the perfect espresso and cappuccino, until we will be able to realize our wonderful cappuccino with the heart.
REVIEWS AND…
Are you planning a holiday in Florence or you have some free time after visiting the Florentine museums? Before you dive in Italian bars and coffee read the reviews written by the participants to our courses and tours on Trip Advisor. Then read also the travel diaries of  South Africans travelers and the ones of the boys&girls of the Georgetown University.
QUICK INFOS
Schedule: The course is held in the morning (10am-1pm) and in the afternoon (3pm-6pm) contact us at [email protected] for the availability.
Meeting point: the tall marble column in Piazza della Repubblica, the very heart of Florence: Right in front of Gilli coffee shop.
Finish point: Vivaldi coffee shop. If you take part to the afternoon session you will be very close to Piazzale Michelangelo and one of the most beautiful sunset spot of the world!
Number of participants: the maximum is six
How long we walk? The tour is long around 1,2 kilometers (0,7 miles) is flat and has, halfway and at the end, great refreshes in different bars, with ice cream, water, juices and many more, everything included!
Are you scared of caffeine? The tour is focalized on the culture of Italian bars, even if we enjoy great espresso and cappuccino. The best decaff (decaffeinated with the natural Swiss Water process) is anyway always available, and the shop where we taste the coffees is famous for its Ice cream and sweets (as tiramisù) as well, so there is no need to drink coffee!
Tiket pricing: Adult (guests aged 18+):   €65   ($72)
Youth (guests aged 17 or under):   €40   ($44)
How can I book? To book a course we just need an E-mail with name, surname and a telephone number. There is no payment in advance (but, I'm sorry, we can not yet accept credit cards). The Email address is:  [email protected]
For more information
[contact-form-7 404 "Not Found"]